In 2023 we are beating Inflation!
Ladies and Gents Full Membership Fees
In 2023, despite rising demand, we still offer full membership with no Joining Fee and unchanged annual subscription fees. We offer monthly payment options which include a €44 administration fee but no further interest charge, to full Adult members, Seniors, Young Adults and Intermediaries.
Our current full Adult Membership Categories are as follows:
Full Membership – €880 / €77 per month (standing order)
Seniors (over 65 years) – €715 / €63.25 per month
Seniors (over 75 years of age) – €385 / €35.75 per month.
Golf Ireland levies and annual insurance are included in our membership fees. Reduced rates are available for Couples (must be Legal Partners). Please talk to our office. You find a Membership application inquiry form at the bottom of this page. Call our Pro Shop or office on 021-4812 399 or send an email to secretary@cobhgolfclub.ie 
Introductory Rates
Young Adults (up to 30 years of age) – €528 / €47.67 per month
Intermediates (up to 25 years of age) – €396 / €36.67 per month.
Student (up to 25 years of age) – € 230 
Juveniles (up to 17 years of age) – €120
Other Membership Categories
Overseas membership – €230
Country membership – €230
Please check with our office for terms and condition. Golf Ireland levies and annual insurance are included in our membership rates above.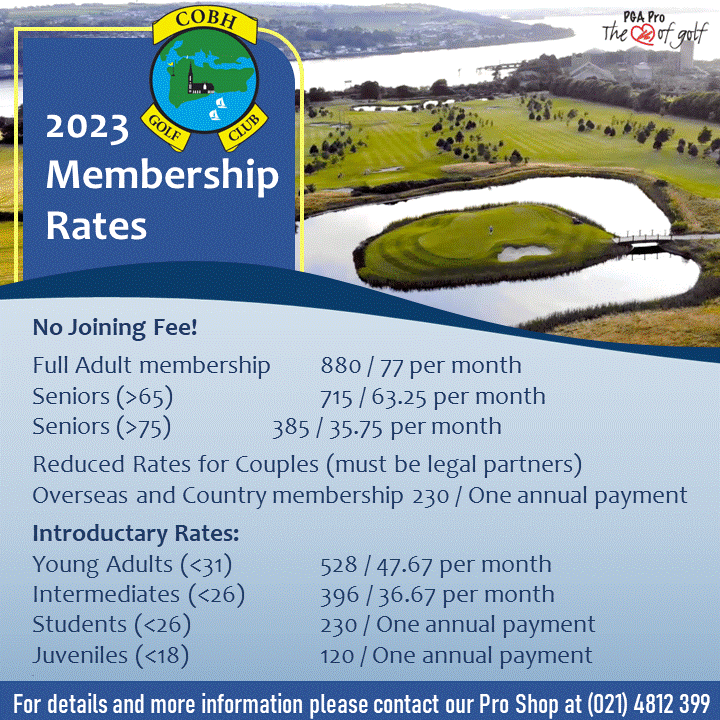 Further T & C's 
Students must be between 18  – 25 years old, in full time education or a 1-3 year apprentice.
Intermediate members must be between the 18 – 25 years and not in full time education, max 3 years.
Young Adult members are 21 – 30 years, can only be in this category for a maximum of 2 years.
Overseas members are someone who lives outside the Country for a minimum  75% of year.
Country member is someone who has permanent residence  outside of the county of  Cork and MUST be a voting member of another affiliated club.
Juvenile member is aged 10 years –  to 17 years and in 1st or 2nd level education.
Please note that all rates above INCLUDE affiliation Fee and Insurance.
(021) 4812399
info@cobhgolfclub.ie
Cobh Golf Club,
Marino Point, Cobh,
Co. Cork.